What do you throw away?


We need your help!
We look for clean, safe, and interesting donations that will support our local teachers and students while at the same time preserving our environment.  You can drop off donations at the back of our building during the hours we are open. We stop donations 1/2 hour before closing.Please DO NOT drop donations at our front or back door when we are not there. They will just get put in the trash. Please call first to make sure someone is there.We  can give you a tax deductible donation receipt, just call us at 520-425-3956.
Here are some of the things we are always looking for:
☺ 35 millimeter film containers
☺ Art Supplies (new and used)
☺ Baby Food Jars
☺ Baskets
☺ Binder Clips
☺ Books(children and teachers)
☺ Bottle Caps (all kinds and sizes)
☺ Calendars with Pictures 2019 or newer
☺ CD's & their cases (new and used)
☺ Clean clear containers any size
☺ Clothespins
☺ Coffee Cans with lids (plastic and metal)
☺ Colored Paper
☺ Colored Pencils
☺ Craft kits and misc. crafting items
☺ Dry Erase Markers
☺ Discontinued Items (clearance)
☺ Egg Cartons
☺ Fabric (clean, 6″ or larger))
☺ Greeting Cards (New/Unused)
☺ Golf Tees
☺ Jewelry, beads
☺ Jigsaw puzzles
☺ Keys & key chains
☺ Large & small Brown Paper Bags
☺ Lined paper
☺ Magazines
☺ Magnets
☺ Marbles
☺ Metal lids from OJ cans
☺ Office Supplies (file trays, staplers, hole punches, sheet protectors, folders, tape)
☺ Old Flash drives
☺ Paper towel & TP tubes
☺ Plastic Ziplock bags all sizes (new)
☺ Popsicle sticks                                                                                                              ☺ PPE (wipes,gloves,hand sanitizer)                                                                               ☺ Promotional Items (stress balls,etc)
☺ PVC pipe
☺ Reusable Canvas Bags
☺ Ribbon, trim, rickrack
☺ Rocks & Shells
☺ Samples & Samples Books of any kind
☺ Sandpaper (new & used)
☺ School Supplies (pencils, pencil cases, rulers, markers, paint,glue, crayons)
☺ Small mirrors
☺ Small furniture (chairs, file cabinets, easels, bulletin boards,bookshelves)
☺ Smooth wood and wood trimmings
☺ Spools, empty or with thread
☺ Tape Measures
☺ Teaching Supplies
☺ Tennis balls and their containers
☺ Tile
☺ Toys
☺ Vinyl, leather pieces, and scraps
☺ Washers & Nuts
☺ Wire
☺ Yarn
☺ Velcro
☺ Zip ties
☺ Call us before you throw anything away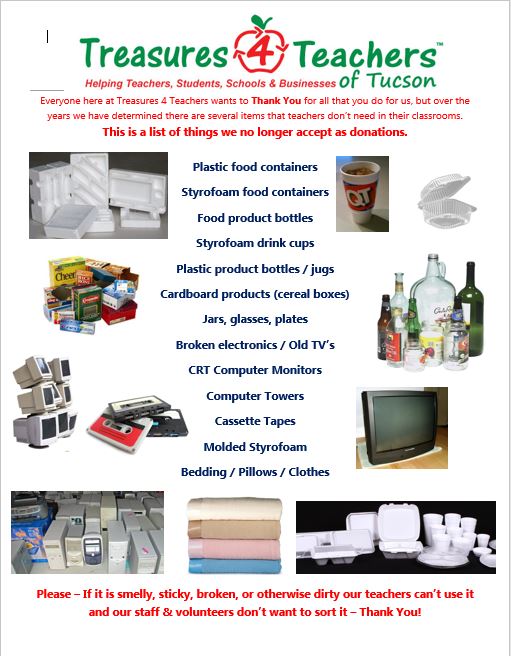 VOLUNTEERING  is another way to help us!!!
---

Support us when you shop on AmazonSmile!
All you have to do is shop, we benefit.
What is AmazonSmile?

  AmazonSmile is a simple and automatic way for you to support your favorite charitable organization every time you shop, at no cost to you. When you shop at

smile.amazon.com

, you'll find the exact same low prices, vast selection and convenient shopping experience as Amazon.com, with the added bonus that Amazon will donate a portion of the purchase price to your favorite charitable organization.
To shop at AmazonSmile simply go to smile.amazon.com from the web browser on your computer or mobile device. You may also want to add a bookmark to smile.amazon.com to make it even easier to return and start your shopping at AmazonSmile.
1. * Log in to your Amazon or Amazon Prime account.
2. * Click on https://smile.amazon.com/gp/chpf/homepage/ref=smi_se_scyc_srch_stsr?q=t4+educators+inc&orig=%2F This will choose T4 Educators Inc as your designated charity.
3. Press SELECT
4. Congratulations!  You have changed your charity to T4 Educators Inc.

---
---